The Letter to Flormar and Boycott Call from 94 Women and LGBTİ+ Organizations
---
To the management of Flormar Turkey and Groupe Rocher,
In May, FLORMAR cosmetics, operating out of the Gebze Organized Industrial Zone, fired 120 workers – a majority of whom were women – for having joined a labour union! Unionization is a clearly defined and well-delineated right both under national legislation and international conventions: Article 51 of the Constitution, Article 23 of the Universal Convention on Human Rights, Article 31 of the Union's Law No. 6356, ILO Convention No. 87, Article 5 of the European Social Charter… All of these legislative texts encompass and guarantee our right to unionize, which means that Flormar is committing an open violation of the law by dismissing workers on grounds of their membership in a union. Not only has Flormar fired these workers in question, but has also been attempting to sever the lines of communication between the workers inside and outside the factory.
The majority women workers resisting resolutely since the 15th of May wish to be reinstated at work as union members. Among the workers' demands are decent living wages and measures ensuring workers' health and labour safety. Having adopted the tagline "We can do it if we want to" for advertising and marketing purposes, Flormar reveals its insincerity by unabashedly firing workers for exercising their constitutional right and supporting their laidoff friends! We ask: How does Yves Rocher, owner of 51% of Flormar's shares and a company that prides itself in being nature-friendly, explain this hostile attitude towards workers by a company under its umbrella? While union organizing is defined as a right in France, shall the major shareholder Groupe Rocher give its silent consent to the unconstitutional actions of its firm located in a different part of the world?
We, the undersigned, declare that we shall purchase the products of neither Flormar nor Yves Rocher and shall in fact actively organize a campaign for boycott until the 120 workers fired for unionizing and exercising their constitutional right are fully reinstated. We will not allow for the 'strong woman' image to be marketed to women, who constitute the main consumer base of the companies, in order to increase sales, while on the other hand women are shamelessly being fired the moment they dare to demand and exercise their rights. We refuse to consume your products until all workers are given back their jobs and their demands are met. We know that if we stop, the world stops with us!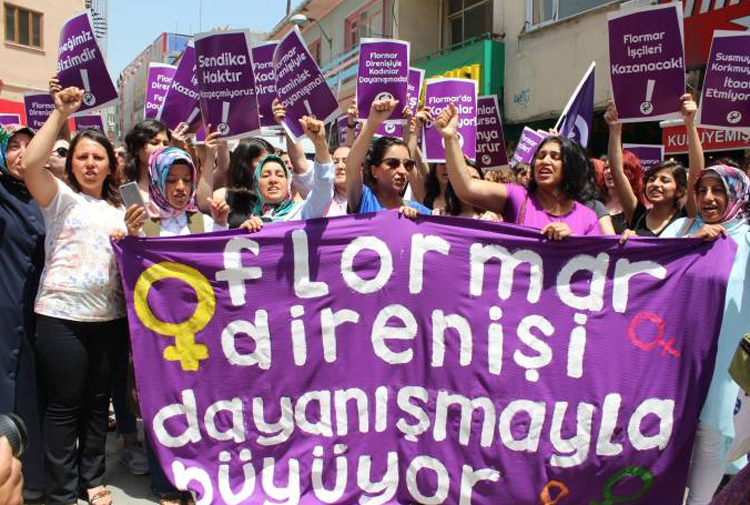 SIGNATORIES
1. 17+ Alevi Women 2. Women from the 78'ers Initiative 3. Anarchist Women 4. Ankara Chamber of Medicine Women Doctors and Women's Health Commission 5. Atakent Women's Council 6. Ayvalık Independent Women's Initiative 7. Women Academics for Peace 8. Bodrum Women's Solidarity Association 9. Association for Struggle Against Sexual Violence 10. Çiğli Evka 2 Women's Cultural Association 11. Demir Leblebi Women's Association 12. Women from the Deriteks Union 13. Dikili Women's Platform 14. Women from the Press Workers Union (Basın-İş) under the Confederation of Revolutionary Workers Unions (DİSK) 15. DİSK United Metal Workers' Union (Birleşik Metal-İş) Women's Commission 16. Women from DİSK Genel-İş Public Service Workers 17. World March of Women Coordination of Turkey 18. Ekmek ve Gül (Bread and Roses) 19. Women from the Labour and Justice Platform (Emek Adalet Platformu) 20. Women from the Labour Party (EMEP) 21. Erzincan Katre Women's Group 22. Esenyalı Women's Solidarity Association 23. Eskişehir Chamber of Medicine Women's Commission 24. Equal Life (Eşit Yaşam) Association 25. EŞİTİZ- Equality Monitoring Women's Group 26. FeminAmfi 27. Feminist Çukurova 28. Fethiye Women's Consultation and Solidarity Association 29. Foça Women for Peace 30. GEN-DER Collective of Gender Studies 31. Gülsuyu Gülensu Women's Solidarity House 32. Women from Halkevleri (People's Houses) 33. Peoples' Democratic Congress (HDK) Women's Council 34. Peoples' Democratic Party (HDP) Istanbul Women's Council 35. Progressive (İlerici) Women's Council 36. İmece Domestic Workers' Union 37. Istanbul LGBTI + Solidarity Association 38. Istanbul Chamber of Medicine Women's Commission 39. Istanbul University Women's Rights Club 40. İzmir Women's Solidarity Association 41. We Will Stop Femicide (Kadın Cinayetlerini Durduracağız) Platform 42. Women's Solidarity Foundation (Kadın Dayanışma Vakfı) 43. Women's Labour Collective (Kadın Emeği Kolektifi) 44. Women's Councils (Kadın Meclisleri) 45. Women's Defence Network (Kadın Savunma Ağı) 46. Women Writers Association 47. Group for the Emergency Prevention of the Killing of Women 48. Muslims against Violence against Women 49. Women for Women's Human Rights – New Ways Association (WWHR)
50. Women's Solidarity Foundation (KADAV) 51. The Women's Party 52. Campus Witches (Kampüs Cadıları) 53. Kaos GL Association 54. Women's Labor and Employment Initiative (KEİG) Platform 55. Confederation of Public Workers Union (KESK) Women's Assembly 56. Kırkyama Women's Solidarity 57. My Sister (Kızkardeşim) Women's Solidarity Association 58. Red Pepper (Kırmızı Biber) Association 59. Kocaeli Women's Platform 60. Körfez Independent Women's Solidarity 61. Kuir (Queer) Eskişehir LGBTI Community 62. Women from the Northern Forests Defence 63. Lesbian Bisexual Feminists ( LezBiFem) 64. Lotus Women's Solidarity and Life Association 65. Women of Maltepe 66. Mardin Chamber of Medicine Women Doctors and Women's Health Commission 67. Mersin LGBT Seven Colours (Yedi Renk) Association 68. Mersin Chamber of Medicine Women Doctors and Women's Health Commission 69. Mezopotamya Women's Cooperative 70. Purple Solidarity (Mor Dayanışma) 71. Muamma Football Team 72. Muamma LGBTI+ Initiative 73. Muğla Women's "My Labour" (Emek Benim) Association 74. Muğla Karya Women's Association 75. Nar Women's Solidarity 76. Social Solidarity Network SODA 77. Women from the Social Rights Association 78. Socialist Women's Councils 79. Socialist Refoundation Party Women's Council 80. Free Women's Congress (Kongreya Jinen Azad / KJA) 81. Tez-Koop-İş Union Women's Journal 82. Journalists Union of Turkey (TGS) Women and LGBTI Commission 83. The Union of Chambers of Turkish Engineers and Architects (TMMOB) Women's Commission of the Istanbul Province Coordination Committee (İKK) 84. The Union of Chambers of Turkish Engineers and Architects (TMMOB) Women's Working Group of the İzmir Province Coordination Committee (İKK) 85. Psychologists Association for Social Solidarity (TODAP) Women's Committee 86. Women of Tuzluçayır Solidarity Association 87. Turkish Medical Association Women Doctors and Women's Health Division 88. Flying Broom (Uçan Süpürge) Women's Communication and Research Association 89. University Women's Councils 90. University Women's Collective 91. Living Space (Yaşam Evi) Women's Solidarity Association 92. New Democrat (Yeni Demokrat) Women 93. Women from the New Way (Yeni Yol) 94. Green Feminists 95. Green Left Women 96. Yoğurtçu Women's Forum
This post is also available in: Turkish