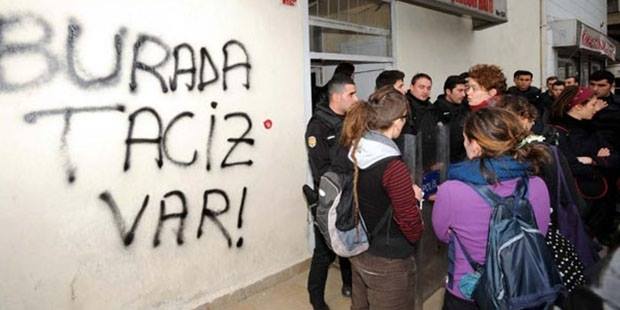 The writing on the wall: "There is sexual harassment here!"

On 4th of March 2015 two women have been sexual harassed in the Şifa Hamam in Karaköy. After the first hearing of the trial on the 25th June, we call out to meet in front of Caglayan Courthouse tomorrow on Tuesday 8th of December for surveilling the 2nd hearing.
We want to uncover the act in which all the workers of the Hamam collaborated to take advantage of the fact that the two women were tourists from France, did not speak Turkish and were not familiar with the procedures of Hamam. To confront the harasser we went as women to the Hamam, only to find the harasser protected by riot police and once more the masculine mentality of the state became clear!
The women who were subject to this harassment went to the police afterwards to file a complaint, where their statement was not taken properly and instead they were treated badly. At the trial we insist to take the statements of the women serious and to punish the harassers! We will not allow that women face this inequality towards men and this enforcement of violence ever again in a Hamam!
These 2 French female friends of ours are not alone!
As women, in the sense of sex or gender, we are facing male violence due to class, age, sexual orientation, religious orientation and ethnical background; at the same time we are struggling in every space of our lives against this violence!
Let's support the struggle against sexual harassment against all women and transgender and meet for the second trial tomorrow, on Tuesday 8th of December at 9.45am in front of the Caglayan Courthouse (entrance C)!
Masculinity is harassing, the state is protecting!
Masculinity is raping, the state is protecting!
Masculinity is killing, the state is protecting!
No to male-pattern sexual violence, harassment and rape!
Women in Solidarity Against Sexual Arrassment in the Hamam
This post is also available in: Turkish