As Association for Struggle Against Sexual Violence, we have reached the fifth year by having identified a number of situation & cases in which the sexual violence and power mechanisms are intertwined and by having conducted various activities with rights-based approach and consciousness of solidarity. In 2018, by taking a stand against all types of violence, we have continued to hold these kind of activities in order to contribute to a world where sexual violence and damages caused by sexual violence are eradicated for the sake of all sentient beings.
2018 was a year where Turkey as a country drifted apart from the fundamental rights and values by polarizing its citizens, who were also affected by the global war politics. On 24 June, transition to Presidential System of Government has completed in Turkey, which is a system that we experienced one form of it before. State of siege and emergency were lifted in Turkey in July after two years. Nevertheless, the activities of LGBTI+ groups were banned indefinitely in some provinces on the grounds of social sensitivity. No anticruelty laws to protect animals from cruel and inhumane treatment was enacted, about which all the political parties without exception published a manifesto before the election. In 2018, there were lots of sad news published about how the citizens, artists, actors, journalists, politicians, academic staff, activists, lawyers, government officials, representatives of professional organizations, university students were arrested, detained, imprisoned or dismissed unlawfully on account of their opinions and the statements they made. In the parliament, media and local administrations, we see men a way more than women. In cases of physical and sexual violence, we witnessed an increase in victim-blaming, sexist and discriminatory discourses on media and on the posts shared on social media tools.
This year, the trainings on gender equality were not allowed on the grounds of social values. There have been attempts to eradicate the concept of gender and to annul the Law No. 6284 and Istanbul Convention. We continued to struggle with these initiatives that violated the rights of women and children and continued demanding the reformative public practices in order for the survivors can enjoy their rights.
All these negative developments did not prevent us from dreaming, hoping and of course putting up our struggle. In 2018, as Association for Struggle Against Sexual Violence, we continued to develop different practices for the transformation of social perception with a positive and empowering perspective and to produce preventive-protective studies in order to prevent the types of sexual violence.
In 2018, as Association for Struggle Against Sexual Violence, we had a new office. This year, in addition to the Sigrid Rausing Trust Fund, we have also empowered our resources and built our capacity by obtaining corporate support from Civil Society Development Center. The number of our team members has increased. With the mentoring support we have received this year, we have focused on in-house studies as well as external activities and the activities that will build our capacity. In the coming period, we hope to develop new studies to ensure a further interaction with our members and volunteers.
Every year, we meet more people than those in the previous years. As survivors, we maintain our solidarity with the survivors, we take the necessary strength from each other, we nourish each other by experience sharing. We observe in Turkey that there is a slight increase in the numbers of persons, who combat sexual violence, who prevent violence, who question and are open to learn as a whole regardless of their profession and age, and that the awareness is raised and visibility is increased in that regard. Interacting with lots of people who are ready to begin to change in order to transform the practices of violence that we internalized gives us the strength and motivation to do more and more.
We wish a non-violent communication and solidarity for the social transformation,
Hope to see you in 2019! 🙂
Association for Struggle Against Sexual Violence
---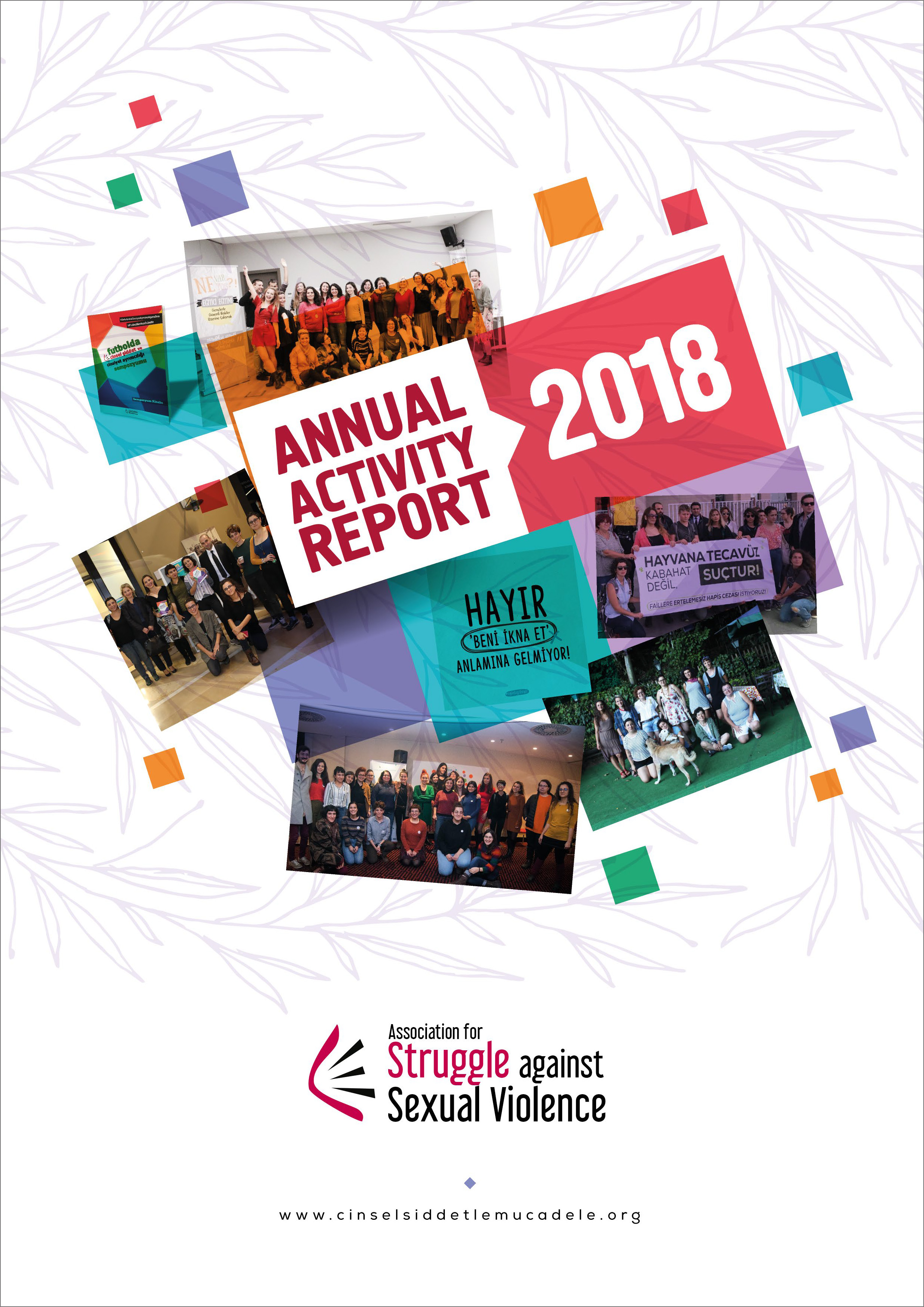 [button title="2018 ANNUAL ACTIVITY REPORT" icon="" link="http://cinselsiddetlemucadele.org/wp-content/uploads/2019/05/2018-activity-report-web.pdf" target="_blank" color="" filled="1″ large="0″ class=""]