Sexual Violence Thrives in Silence, Let's Talk About It!
Project Term: March 2016 – March 2017
This project is supported by the Consulate General of Sweden and conducted by Association for Struggle Against Sexual Violence, with the cooperation of BÜKAK (Women's Research Club of Boğaziçi University) and GWSC KHAS (Kadir Has U. Gender and Women's Studies Research Center) activities.
Steps of struggle against sexual violence:
In our country, there has been a recent increase in the number, types and visibility of sexual violence cases against adults, young women, children, LGBTI+, disabled people and animals; that is being discussed on the basis of an insufficient perception based on the duality of 'monster perpetrator/hopeless victim', by seeking justice in death penalty-castration-lynching of perpetrators, by victimizing and isolating survivors, even by tolerating or ignoring violence in some cases. We observe that all myths and stereotypes about sexual violence are being reproduced both in society and media and unfortunately it is mostly discussed through these stereotypes. There is a need for more discussions in all segments of society about what sexual violence is, which values and norms it is encouraged from, and how it is existing in the practices of our relations.
Therefore; it is crucial to produce informative, awareness-raising materials about sexual violence, provide data by conducting research and statistics, and organize events in the universities and all social settings that make sexual violence as a debatable topic in straight, right-based context.
The purpose of our project is to realize possible activities regarding this need.
Activities of the Project: 
The project has planned to be completed in March 2017 and the activities are being carried out in 4 chapters.
1) Sexual violence awareness raising activities; besides the workshops are held in Istanbul and several others for university students, professionals and social workers, 'Sexual Violence Concept Discussions' and a dictionary of concepts that will arise from these discussions. (CSMD)
Discussions on the concept of Sexual Violence which have been already organized;
– Perpetrator / Victim / Survivor
– Desire / Consent / Construction of consent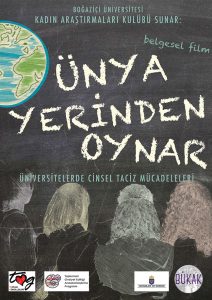 – As one of the methods of struggling against sexual violence; Lubunca
– Rape Crisis Center / Sexual Violence Crisis Center
– Speciesism and Sexual violence against animals
2) #WeCanDoIt Digital campaign: A digital campaign on social media channels to promote all actions and suggestions that individuals can do to struggle against sexual violence, including posts on Twitter and the blog www.bunuyapabiliriz.tumblr.com with the hashtag #WeCanDoIt (CSMD)
3) Producing and showing the documentary 'Dünya Yerinden Oynar' (The World Comes Away) which tells about the struggles against sexual harassments in universities. "University Students Discuss Sexual Violence" Forum at Boğaziçi University. (BÜKAK)
4) Mapping sexual violence at universities in Turkey. A report and guidebook to be obtained from the mapping work done in this field. (Kadir Has University Gender and Women's Studies Research Center)
---
PROJECT TEAM
Project Coordinator: Hilal Esmer
Project Staff: Rosa Maria Quirant Quiles / Fatih Kılınç
Implementation: CSMD Team
Graphic Design: Hilal Esmer
Responsible of BÜKAK Studies: Zeynep Nisan Günç
Responsible of KHAS GWSC Studies: Mary Lou O'Neil
* The opinions that have been expressed above, reflect the views only of the Association for Struggle Against Sexual Violence. Therefore, the Consulate General of Sweden cannot be held responsible for any use which may be made of the information contained therein.
This post is also available in: Turkish